Labor Negotiations are in Full Swing
The City and County of San Francisco (City) is in the thick of bargaining with its unions whose contracts are open for negotiations. The labor project encompasses 37 unions covered by 26 different contracts, affecting about 30,000 employees. The City Charter provides a process by which contract agreements must be completed and sent to the Board of Supervisors by May 15, 2019.
Economy and the City Budget:
In short
The City recently released its Five-Year Financial Plan update for Fiscal Year 2019-20 through Fiscal Year 2023-24. The outlook is similar to what we have seen over the last several years: The City is not in a recession, cutting services, or laying off employees. However, the City is seeing indicators of slowing economic growth, while facing continuing cost pressures and uncertainty ahead.
Our employees are our greatest asset. The following chart illustrates how the City's General Fund is allocated. Employee benefits and salaries represent the biggest portion of General Fund expenditures, demonstrating their importance: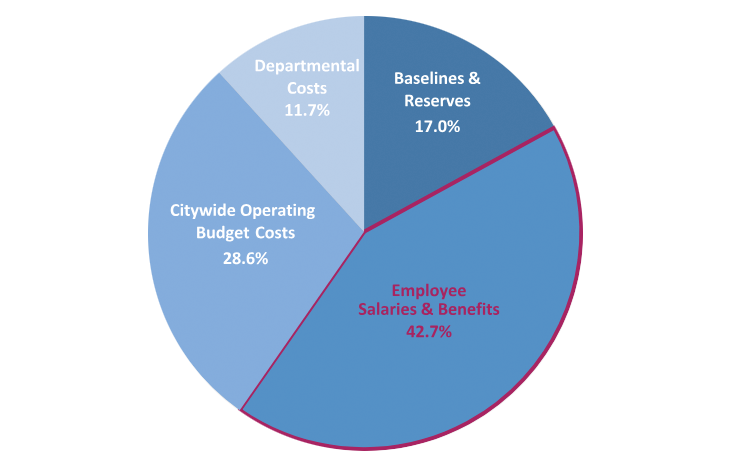 Chart 1
Employee wages have kept pace with increases noted in the Consumer Price Index over the past several years, and we want to keep it that way. At the same time, the City's costs to provide those wages and other benefits for full time employees have grown at more than twice the rate of inflation: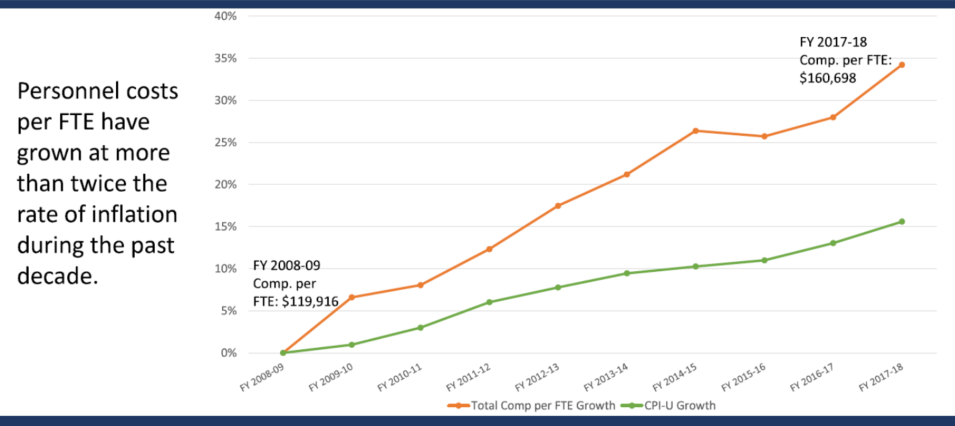 Chart 2
The bottom line? The City is at the table with labor partners to negotiate new contract agreements that provide continuing fair wages for employees, while balancing other City priorities.
Cost Pressures:
The Financial Plan projects that, while the City will experience continued strong, but slowing, growth in tax revenues over the next five years, the cost of City services will outpace growth in tax revenues, resulting in ongoing structural deficits: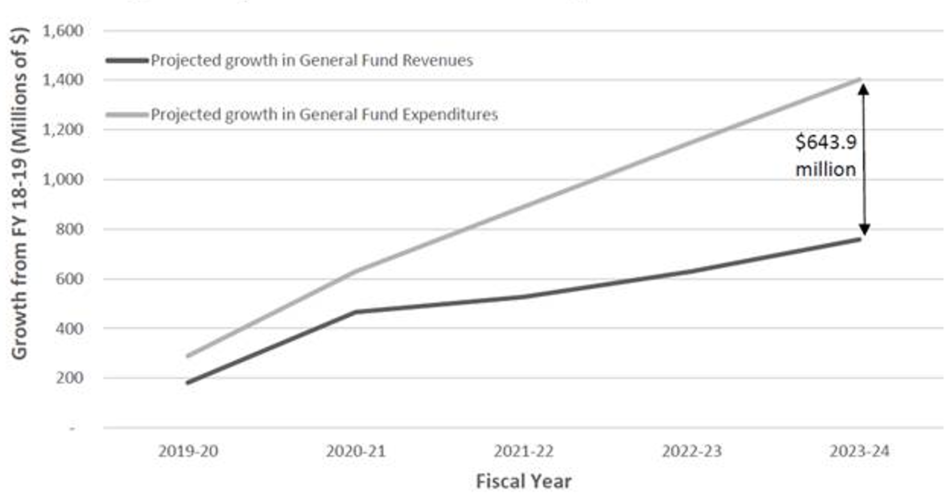 Chart 3
In the near term, the City faces pressure from growing employee costs—especially for pensions and healthcare. Another big challenge is the shift the state made, from paying for In Home Supportive Services (IHSS) to requiring local governments to pay those costs. This alone amounts to $93.4M in new costs by FY 23-24, and represents 57 percent of the increase in departmental costs shown in Chart 1.
The City also has a large number of voter-mandated baselines and set-asides, including the Municipal Transportation Agency (MTA) baselines, Library Preservation Fund, and the Children's Services Fund baseline, among many others.
In the longer term, the risk of a recession is the greatest source of uncertainty. Costs the City will incur to keep the Housing Authority functioning, and new requirements or changes brought about by state and federal legislation also pose substantial risks.
Mayor's Instructions to Departments:
The Mayor has instructed departments to continue responsible fiscal policies that limit ongoing cost growth by making every dollar count; ensuring every position and all funding achieve their highest and best use; and that any new positions or funding align with the Mayor's priorities.
The Mayor's priorities include:
Building more housing
Reducing homelessness
Addressing behavioral health needs
Cleaning up San Francisco streets and making them safer
Creating equitable opportunities for everyone
Making government more accountable
Open Contracts:
San Francisco's employees deliver a wide range of services and include nurses, carpenters, wastewater treatment plant operators, transportation planners, social workers, firefighters, librarians, and so many more.
The following contracts, representing over 30,000 City employees, are open in this round of bargaining:
Automotive Machinists Local 1414
Building Inspectors Association
Consolidated Crafts
Deputy Probation Officers' Association (DPOA)
Deputy Sheriff's Association (DSA)
District Attorney Investigators' Association (DAIA)
Electrical Workers Local 6
Institutional Police Officers' Association (IPOA)
IFPTE, Local 21
Laborers, Local 261
Municipal Attorneys' Association (MAA)
Municipal Executives' Association (MEA) - Misc.
Operating Engineers, Local 3
Painters (SFCWU)
Plumbers, Local 38
SEIU Local 1021 Misc.
SEIU Staff Nurses
Sheriff's Managers & Supervisors Association (MSA)
Stationary Engineers, Local 39
Supervising Nurses, Teamsters Local 856
Supervising Probation Officers (SPO)
Teamsters, Local 856 (Multi-Unit)
TWU-200 (Seam)
TWU 250-A (7410)
TWU-250-A (Multi-Unit)
Union of American Physicians and Dentists (UAPD) Unit 17 Unit 18
Unrepresented
Not a contract—enacted by Ordinance
Bargaining Timeline:
The City's negotiations follow a process and timeline specified by the City Charter, which results in contracts going before the Board of Supervisors for approval by May 15. Charter section A8.409 lays out the process for almost all non-safety employees, along with impasse procedures should the parties fail to reach agreement. With few exceptions, in situations where the union and the City cannot agree on a contract, the parties present their cases to a neutral third party whose decisions are binding on both parties. This process benefits the City, the unions, and the public by eliminating the disruptions caused by strikes.
Late January
Meet and greet sessions to establish bargaining calendar, set dates for exchanging proposals
Early February
Exchange opening proposals
March
Agreed upon final dates to advance proposals
April 29, 2019
Last date for issuance of arbitration awards for unions that do not waive 10-day cooling off period
May 10, 2019
Target deadline for final arbitration awards for unions that do not waive the 10-day cooling off period
TBD
Date by which agreement should be reached for unions that reach agreement without going to arbitration
May 10, 2019
Deadline to file MOUs with the Board of Supervisors for unions that do not waive the 10-day cooling off period
May 15, 2019
Target deadline for arbitration awards for unions that waived the 10-day cooling off period and went to arbitration
May 15, 2019
Deadline to file MOUs with the Board of Supervisors
(Except Nurses)
Press Inquiries:
Members of the news media with questions about the negotiations should contact Susan Gard at Susan Gard or at 415.557.4800.