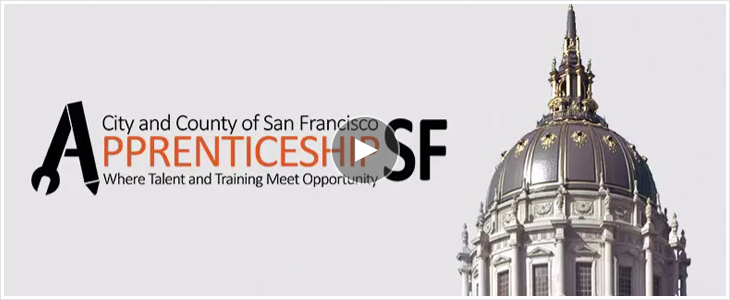 Basic Qualifications
To be considered for an apprenticeship, a candidate must meet the following five conditions:
Be at least 18 years of age at time of hire, AND
Possess a Social Security Card, AND
Possess a High School Diploma, OR GED, OR an equivalent certification, AND
Possess a Valid California Class C Driver's License, AND
Possess Proof of one (1) year of Algebra I (with a passing grade of C or better).
Each apprenticeship program recruitment schedule and process is different. If you are interested in becoming an apprentice, refer back to the ApprenticeshipSF programs page to sign-up to the "Notify Me of Future Openings" link located at the bottom of the apprenticeship program description.
Please include an email address you check regularly. By signing up, you will receive an email notification that the apprenticeship program you are interested in has openings and is currently accepting applications. Once you have applied for an apprenticeship, your application will be reviewed for minimum qualifications requirements. If you meet these requirements, you will be contacted and may be asked to participate in an examination and/or an interview process.
How to Apply

Once you find the apprenticeship or apprenticeships that you would like to pursue, follow the instructions and submit an interest card. If the apprenticeship you are interested is open, read the job announcement carefully! It tells you everything you need to know.
The next steps you take depend on the type of apprenticeship you're applying for:
If your application shows you are qualified for an apprenticeship position you will be invited to take an apprenticeship readiness assessment or the department interview assessment.
If you pass the assessment for an apprenticeship position, your name will be placed on an eligible applicant list and you will be contacted by either the apprenticeship coordinator a department representative regarding next steps.
Congratulations you've been selected!
Once the department extends an offer to hire you, the next steps in the hiring process is determined by the position and the department. This will include background screening, fingerprinting, employment and education verification, and California Department of Motor Vehicles review.
If you are interested in applying for an Apprenticeship position with the City, pay special attention to the "How to Apply" section
Click on the ApprenticeshipSF Terms & Definitions for an explanation of the meaning of a word.
Step One: Review job announcements at https://www.jobapscloud.com/sf
Step Two: If applying to permanent exempt position and your application qualifies, go to next step.
Step Three: Proceed with hiring process determined by the position and the department.
Basic Interview Skills for Obtaining an Apprenticeship
Veterans Preference
Did you know that Veterans have the opportunity to "earn and learn" in a recognized apprenticeship, and may receive GI Bill Educational Benefits?
Eligible Veterans can use GI Bill Educational Benefits for training and/or education. Recognized apprenticeship programs allow Veterans to learn a trade through an apprenticeship, and use the GI Bill benefits to receive a tax-free monthly stipend. The Post-9/11 GI Bill provides a stipend that is the equivalent of the Monthly Housing Allowance (MHA) of an E-5 with dependents (varies by employer location), and is paid in addition to the wages earned as an apprentice. Veterans continue to receive a stipend for every month of their apprenticeship. After six months of a Veteran's apprenticeship, the stipend is gradually reduced – and is offset by progressive wage increases. In addition, many recognized apprenticeships have some classroom training, and apprentices can receive $83 per month for books and supplies.
Career Fairs
The Bay Area