Welcome to SF CENtral!
SF CENtral is a new City portal that brings together timely and important information to employees from all City departments during the COVID-19 health crisis. SF CENtral will include a website, text notifications and weekly newsletters delivered via City email.
Thank You! San Francisco City Employees
Coming Together to Help San Francisco
City employees step into hundreds of emergency service roles
More than 1,100 Disaster Service Workers (DSWs) representing every City department have been activated on assignments to help with various aspects of the COVID-19 response. Many DSWs work out of the City's Emergency Operations Center at Moscone Center; others work from home on specific projects or tasks; and still others are working at various sites around the City.
Any City employee can be called for a DSW assignment. For some, it's an opportunity to do something different from their regular job. For others, they get to use their skills and experience to help specifically with the City's response. Just this week, more than 70 City librarians helped at the San Francisco – Marin Food Bank's pop-up pantry.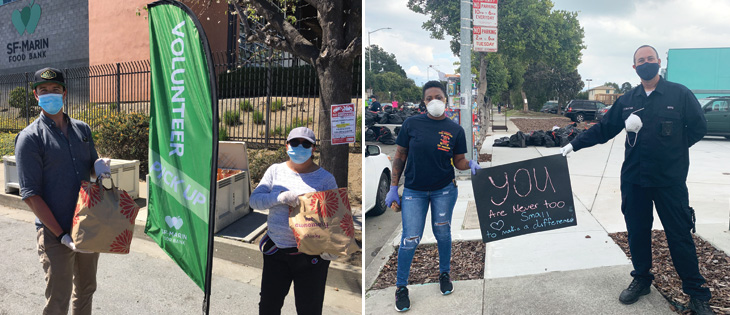 We know some City employees are feeling anxious about deploying as a DSW during this time. But we also know that, with a diverse workforce of over 37,000 people with expertise across all disciplines, City employees have the unique ability to bring San Francisco through this crisis, protecting and helping our residents, our neighbors and each other.
To support its employees, the City is providing free child and youth care to DSWs at 28 locations throughout the City until at least June 2. Employees who want to volunteer for a DSW assignment can get started by completing this survey. Additional guidance for DSWs can be found here: Assignments and Employees Leave . You can read more about DSWs at the City's Emergency Operations Center (EOC) below.
Inside San Francisco's Emergency Operations Center (EOC)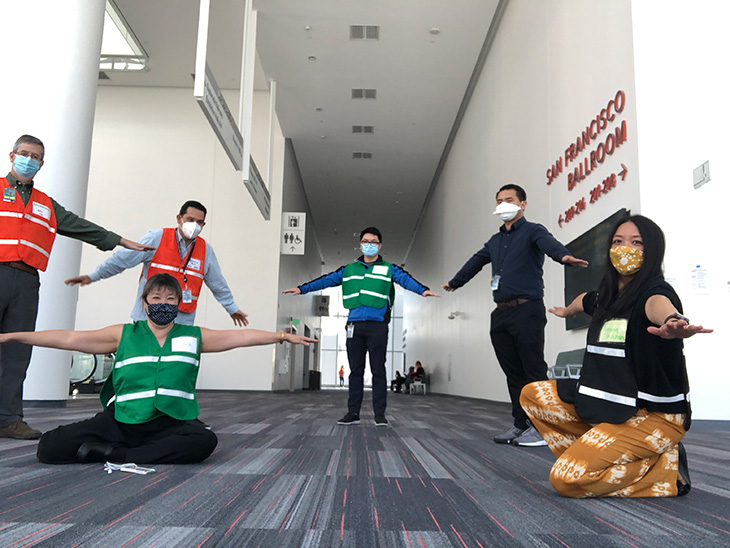 The Emergency Operations Center is activated in times of crises to protect the health and safety of City residents and employees. On January 27, 2020, the EOC was activated to support the City's response to the COVID-19 crisis.
Currently, the EOC is staffed by over 300 City employees from different City departments. Each are assigned to support one of several sections: Management, Joint Information, Operations, Logistics, Planning and Finance/Admin.
The Moscone Center is well suited for the needs of the City's response to COVID-19, and the EOC prioritizes the safety and health of DSWs on-site. Moscone Center is centrally located, secure, and has large spaces, rooms, hallways and outside areas that make it easy to maintain safe social distance.
Each DSW is given a mask; they sanitize their workstation at the beginning and end of each day; and there are hand sanitizing stations in the hallways. During their deployment, DSWs receive daily lunch and other accommodations.
New CityTestSF Opens
Testing for City Employees
The City has expanded its testing capacity for city employees who have symptoms associated with COVID-19. The testing site, CityTestSF, is located at Piers 30-32 at the Port of San Francisco. Employees with confirmed symptoms will have the opportunity to make an appointment for a test. All testing at the site is free and by appointment only. You do not need a doctor's note to schedule a test, but must have COVID-19 symptoms, listed here . Results typically take 1-3 days.
Check with your Departmental HR representative if you have questions about your eligibility, or click the CityTestSF link for more information.
Message from Mayor London Breed - Thank You for Your Service