Welcome to SF CENtral!
SF CENtral is a new City portal that brings together timely and important information to employees from all City departments during the COVID-19 health crisis. SF CENtral will include a website, text notifications and weekly newsletters delivered via City email.
CITY EMPLOYEES FIGHTING COVID-19
City Department Updates
The links below guide employees from the main SF CENtral page to updates specific to their departments. As many of the sites below require remote access, be sure to log into your Microsoft 365 email account and/or VPN to access your department's page. In the coming weeks, SF CENtral will continue to expand and more City departments will be joining SF CENtral!
Safe Shelter for the Unhoused
The coronavirus outbreak presents a significant health risk to people in the vulnerable population including people experiencing homelessness and especially those with chronic health conditions. To address this issue, the City is providing emergency temporary shelter for hundreds of residents experiencing homelessness across the City, allowing them to safely isolate or quarantine. This effort is coordinated between the Department of Public Health, Human Services Agency, and Homelessness and Supportive Housing.
Hundreds of Disaster Service Workers are managing the housing sites and coordinating resources and care for these residents. Although the job is demanding, it has been a rewarding and impactful experience for many City employees working on the front line to protect the health and safety of the public. On-site DSWs ensure that residents are able to secure important resources including wellness visits, meal delivery, and essential supplies.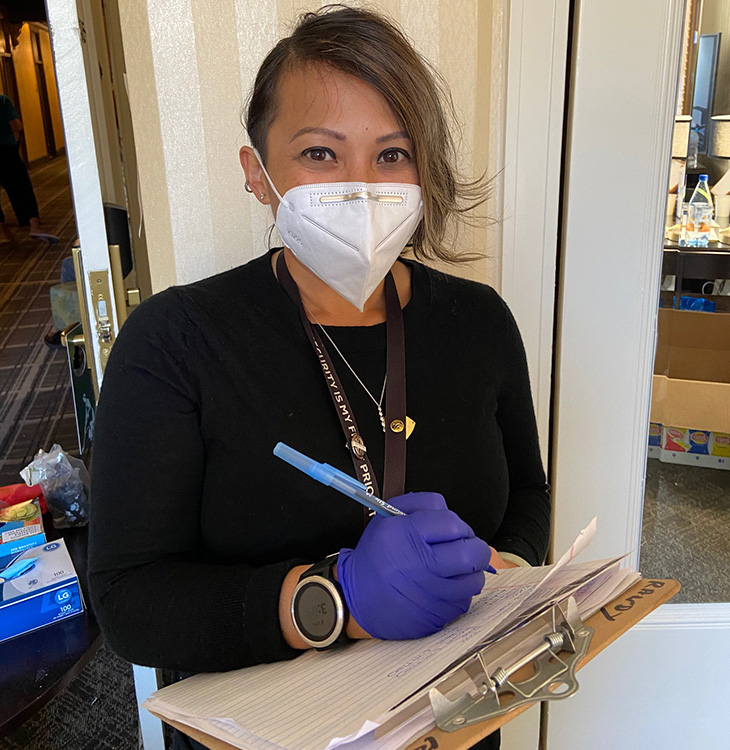 DSWs are still needed for this important work. Complete this survey to identify your availability.
Supporting Merchants and Residents
Many DSW workers,who are a part of the Community Outreach team, continue to provide in-person outreach to the City's merchants and residents, while observing physical distancing requirements such as six (6) feet of separation and wearing face coverings. Before the Coronavirus was ever detected in San Francisco, the City has prepared by issuing public health orders, new policies and other recommendations to keep our residents and employees safe and aware of the latest developments. Examples include defining essential services and providing instructional materials about sanitation.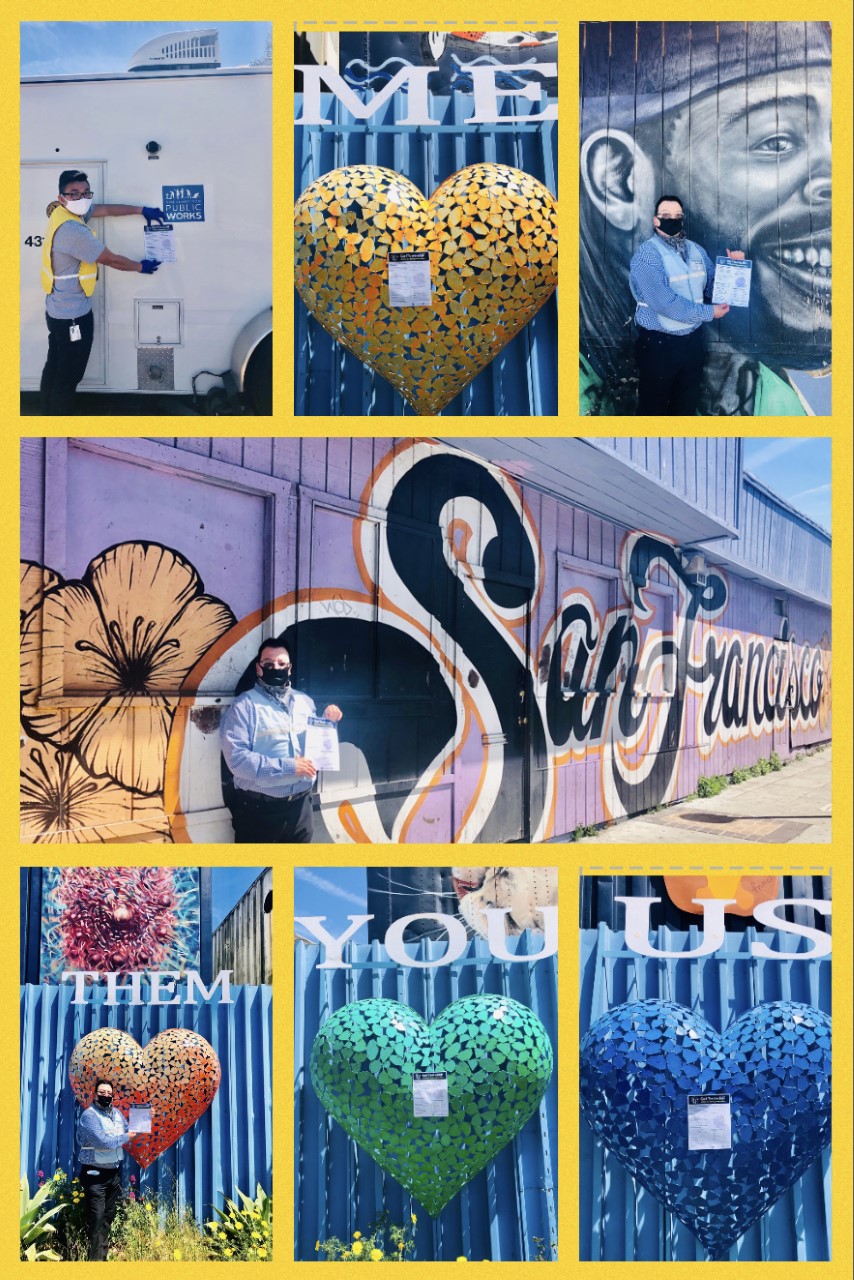 The Community Outreach team creates educational flyers and posters which gets translated into several languages. With these materials in-hand, DSW workers hit the streets – visiting the 34 merchant corridors and neighborhoods to educate businesses and residents. This is a well-coordinated effort and appreciated by San Franciscans and business owners alike.
Recently, Ronnie Rodriguez (Community Manager, Fix-it Team), and temporarily deployed on the Community Outreach team, was praised by a grateful store owner for delivering a poster about masks. Ronnie explained, "When I walked into the store, the owner and employees clapped and said 'Thank you, we really need these signs and we appreciate everything you are doing to help us!'" Ronnie expressed that he was there representing Mayor Breed and the City of San Francisco to help protect public health and safety and mentioned, "If you need anything from us, our team is here to help!"
City Workers Pitching In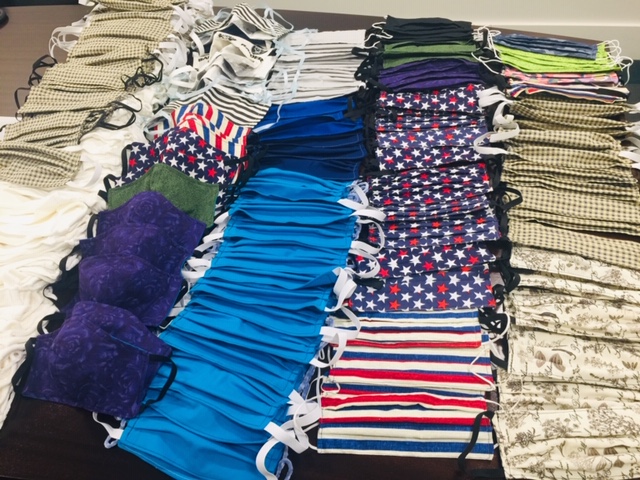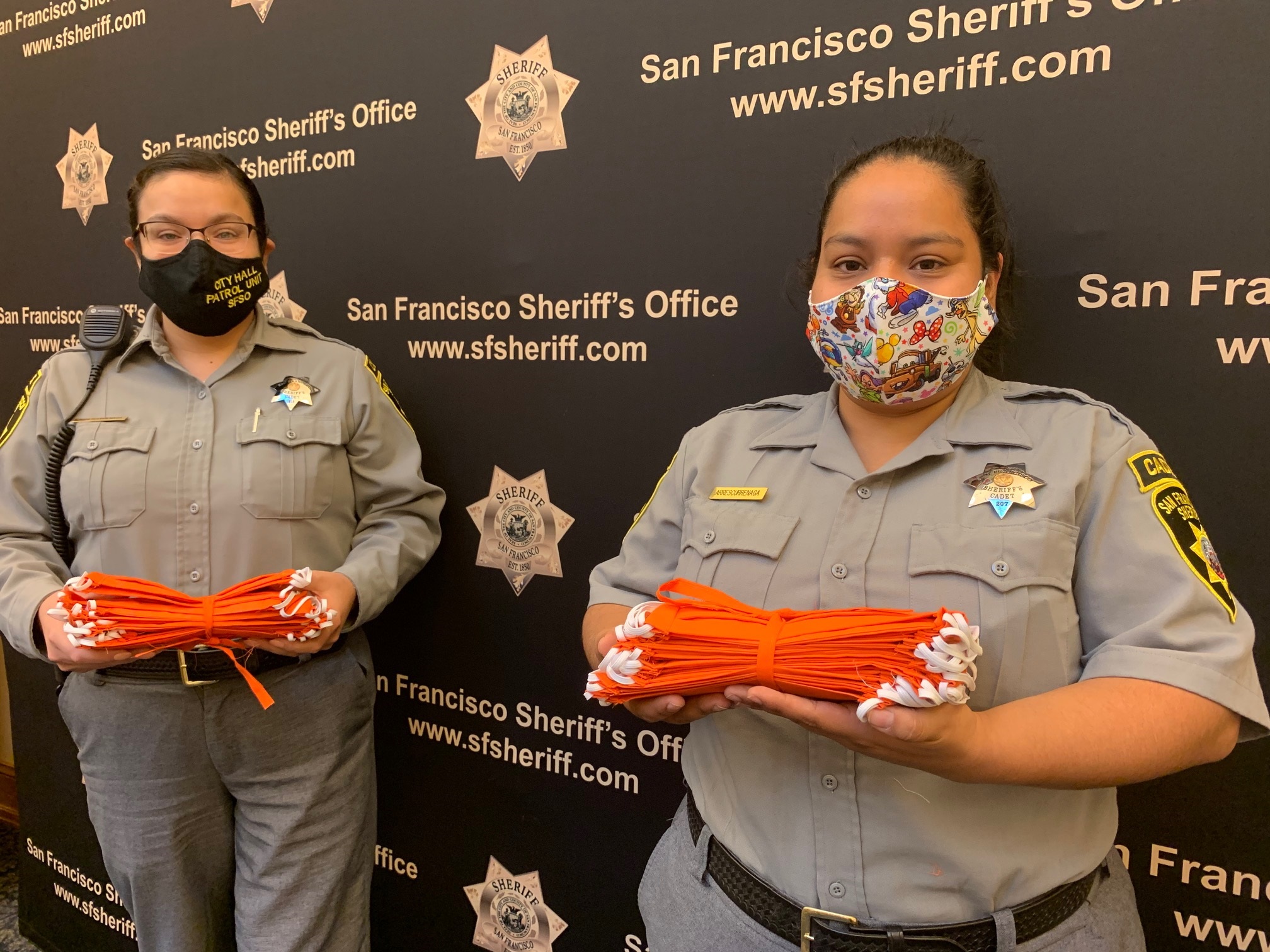 Crafty City workers continue to sew home-made masks to protect San Franciscans. A volunteer group comprised of nine (9) SFO team members handmade 500 masks (left) for their colleagues at the Airport. This effort freed-up N95 and surgical masks for frontline and public-facing employees. Similarly, twin sisters Andrea and Carolina Arrescurrengaga (right), cadets with the San Francisco Sheriff's office, made 900 (!) cloth masks for incarcerated individuals at the county jail.
CityTestSF Expands
The City continues to endeavor to expand testing based on where the need is greatest. Testing is now available to any essential or frontline worker regardless of symptoms or exposure. Moreover, residents of San Francisco are eligible to be tested if the individual is experiencing one or more symptom(s) of COVID-19 or have been exposed to someone with COVID-19 within the past 14 days. A doctor's note is not needed and you will not be charged for the test. There are two (2) locations to obtain testing: (i) Pier 30/32; and (ii) 600 7th Street (SOMA). Visit CityTestSF to schedule a test, walk-ins are not allowed.

SF CENtral YouTube Channel
Check out the SF CENtral YouTube channel for videos highlighting our DSWs!
Recent videos include a Mothers' Day Greeting and a Day in the Life of a DSW Hotel Worker.