Welcome to SF CENtral!
SF CENtral is a new City portal that brings together timely and important information to employees from all City departments during the COVID-19 health crisis. SF CENtral will include a website, text notifications and weekly newsletters delivered via City email.
A Look Inside the EOC
City Department Updates
The links below guide employees from the main SF CENtral page to updates specific to their departments. As many of the sites below require remote access, be sure to log into your Microsoft 365 email account and/or VPN to access your department's page. In the coming weeks, SF CENtral will continue to expand and more City departments will be joining SF CENtral!
Stay Home Order Extended Through May
San Francisco and six other Bay Area jurisdictions will extend the Stay Home Orders through May 31st in order to sustain progress on slowing the spread of the coronavirus. San Francisco's new Stay Home Order will go into effect at 11:59 pm on May 3, 2020.
Under the new Stay Home Order, some lower-risk outdoor activities and jobs may resume. Certain businesses that operate primarily outdoors, such as plant nurseries, car washes, and flea markets to name a few, may reopen. Construction will also be allowed to resume as long as specific safety measures are in place. Some outdoor recreational facilities, like skate parks and athletic fields, may reopen as well. For the full text of the new order and answers to frequently asked questions, visit SF.gov .
As the City moves into the next phase of our response, it is important we all continue to stay home as much as possible, practice social and physical distancing, wear face coverings, and take other precautions. To date, the collective effort and temporary sacrifice of residents and City workers has allowed San Francisco to make substantial progress in slowing the spread of the novel coronavirus. Adherence to the new order and a thoughtful approach to easing restrictions over time will help us preserve the progress we have made and build infrastructure and capacity to manage gradually reopening the City.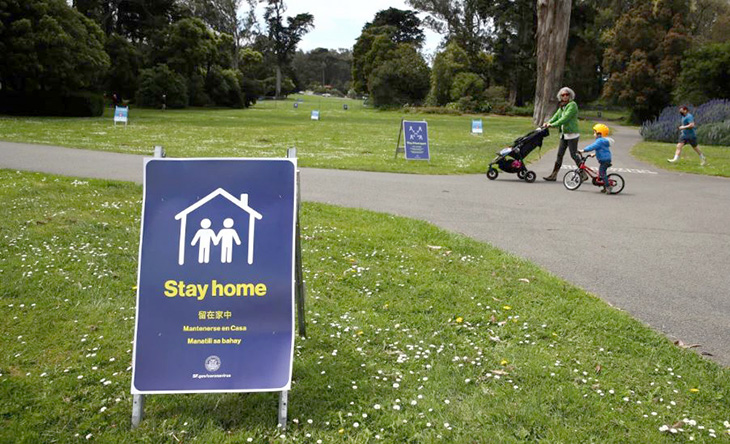 Face Coverings - The "New Normal"
Last week, Mayor Breed announced a new city health order requiring members of the public and workers to wear face coverings while at work and in most public settings. Learn more about the specific requirements of the health order by reading this public notification and reading the full Order .
Wearing face coverings does NOT replace physical distancing requirements.
Mayor Breed explained during one of her daily briefings: "The Order is part of our broader strategy to protect public health and slow the spread of the coronavirus in our community…As we look to a time where we can begin to ease the Stay Home Order, we know that face coverings will be part of that future – and we want San Franciscans to become more comfortable with this new normal. We know it will take some time to get used to, but it will help save lives."
Face coverings should cover the mouth and nose, and can include medical masks, bandanas, scarves or neck gaiters, homemade cotton and cloth coverings. Make sure to wash cloth face coverings frequently with soap and water. Hospital grade medical masks such as N-95s should continue to be preserved for health care workers in clinical settings and first responders
"My mask protects you, and your mask protects me," said Dr. Grant Colfax, San Francisco's Director of Health. "Covering your face is a great way to show you care for your neighbors, friends and family. We are going to have to continue to work together to slow down the virus and reduce transmission. The virus is still out there, and we need to be vigilant."
For instructions on how to make a cloth face covering at home, view this video.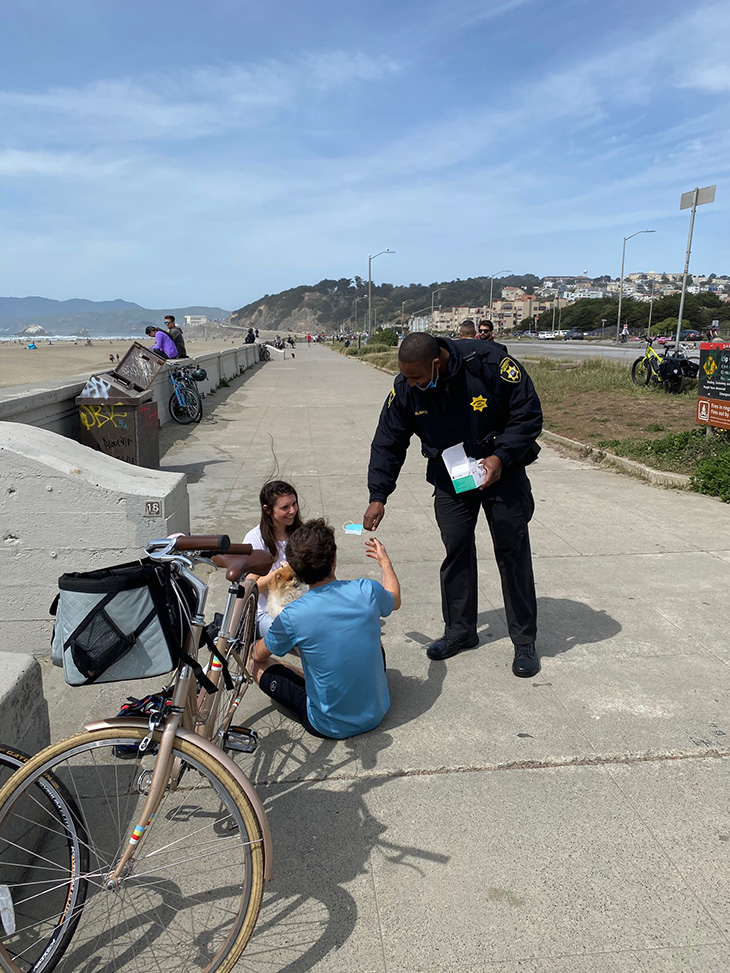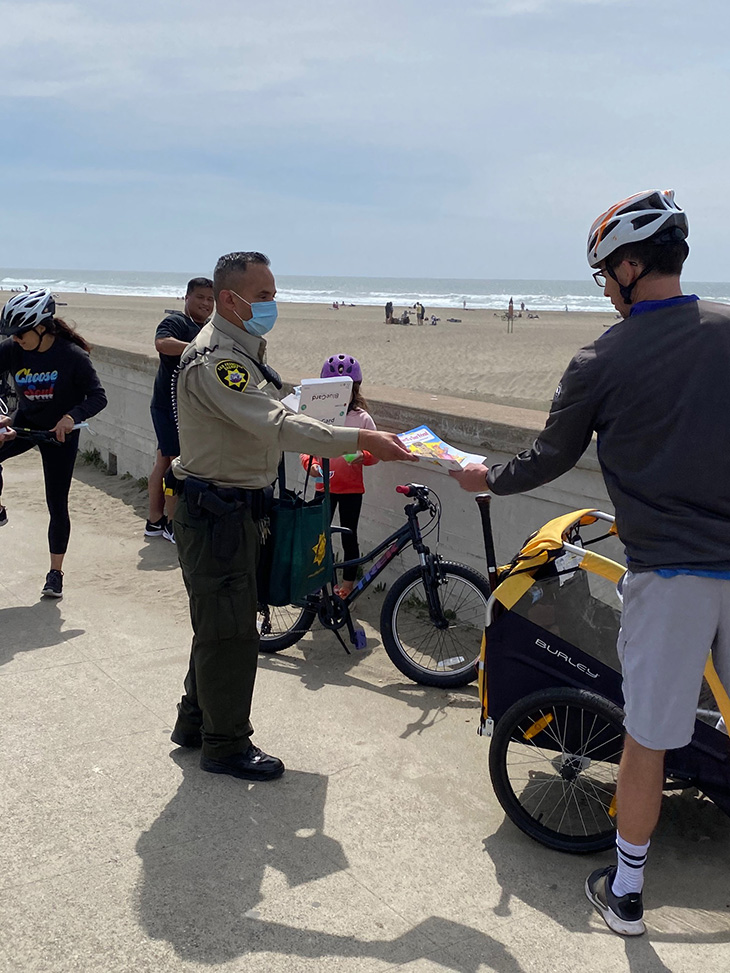 Disaster Service Workers Help Deliver Food & Meals to Those in Need
Disaster Service Workers (DSWs) have been mobilized across the City to support the citywide effort to ensure that all San Franciscans have access to food during this time. The City has activated a multi-pronged program that is providing tens of thousands of pre-packaged meals and bags of groceries to those in need, including those isolating or quarantining as a result of COVID-19. Thanks to hundreds of DSWs from every city department, meals and groceries are directly reaching residents where they need them.
"We want people to be able to focus on their health and safety during this time—not worrying about if and how they are going to eat," said Mayor London Breed. "We also know that COVID-19 is already having a serious financial impact on many of our residents, and people who were struggling to afford food and other basic needs before the crisis now face even bigger challenges. These food resources are an important part of our emergency response and will help people know where they're getting their next meal."
The massive effort, involving multiple city agencies, nonprofit partners and DSWs working together, is providing food security to thousands of residents in need during a time when they are asked to stay at home. This includes packing bags of groceries at City Food Bank Warehouses and Pop-Up Food Pantries; delivering pre-packaged, multi-day meal packs from local restaurants to people who are isolating or quarantining in their homes; delivering pre-packaged meals for unhoused residents at more than 50 locations; and delivering meals to food-insecure residents.
Thanks to all the DSWs for providing this critical service during this time!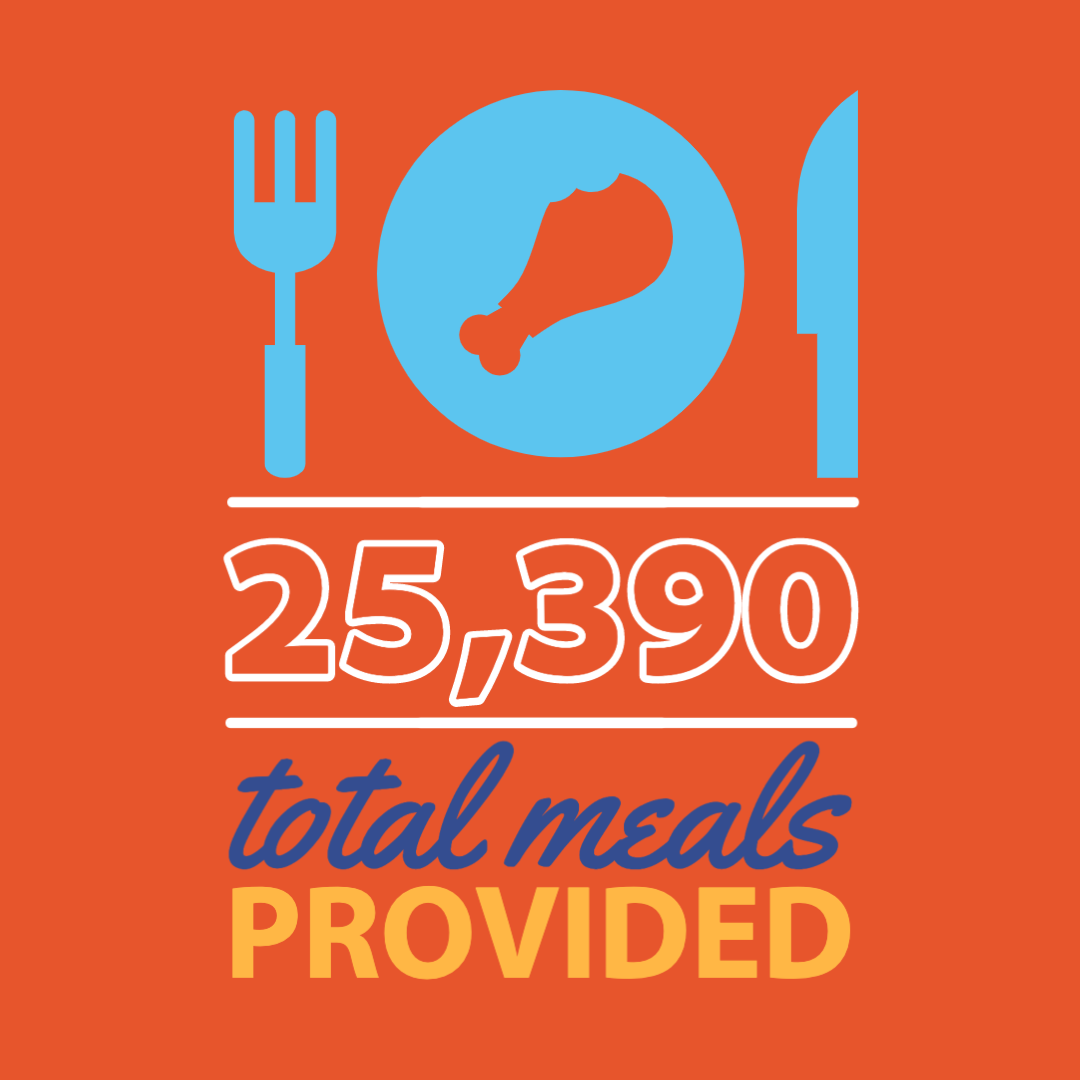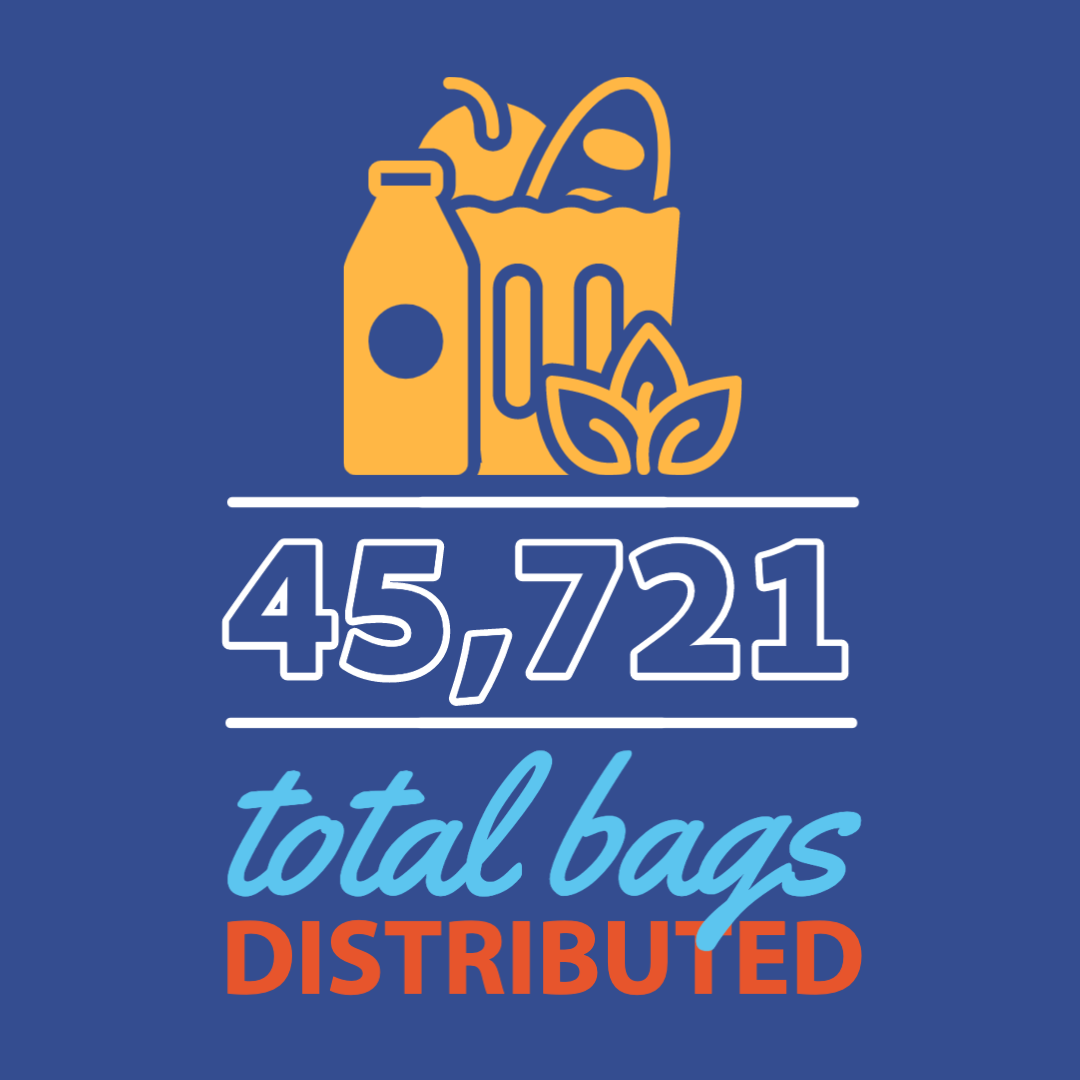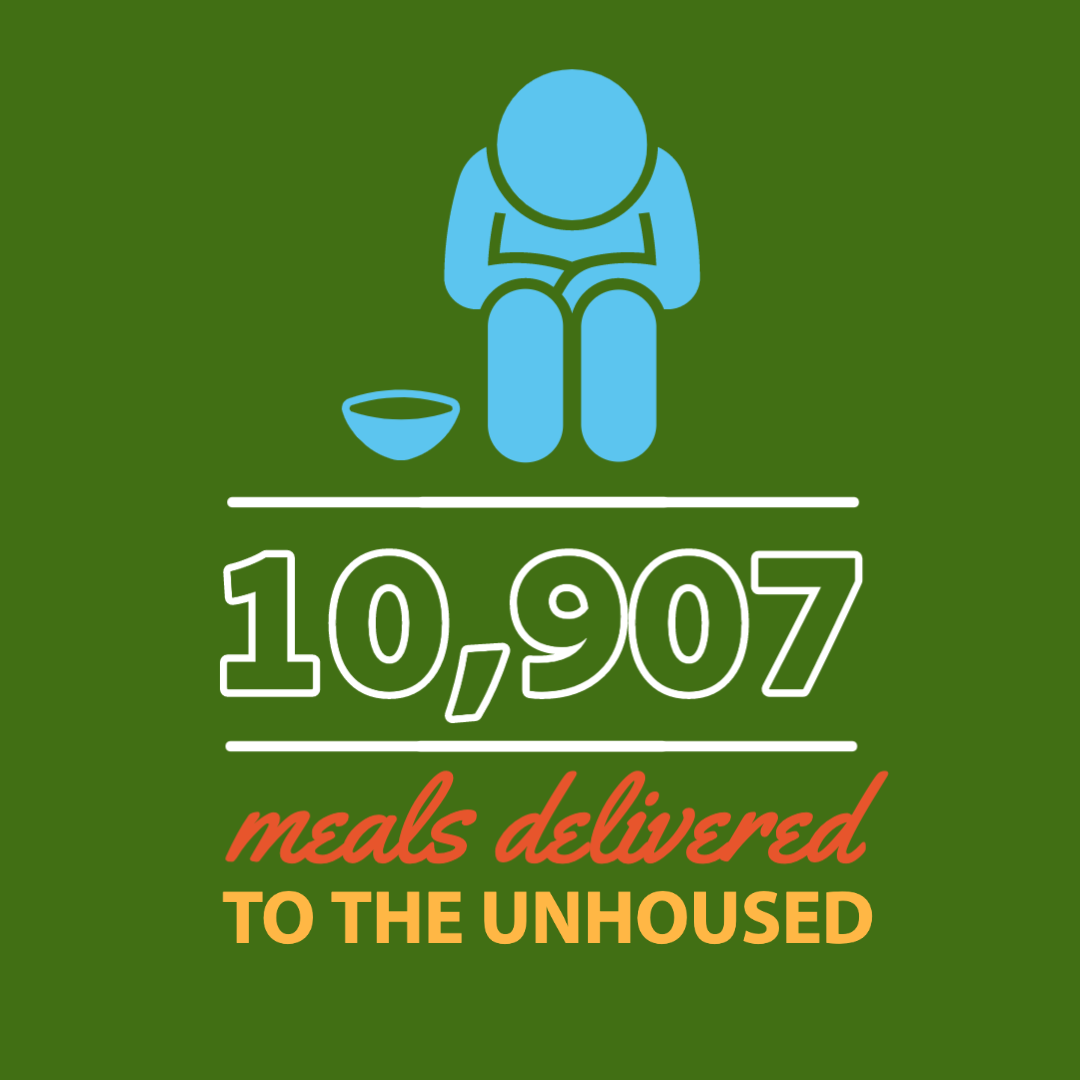 DSWs at the Emergency Operations Center
Meet Andrea Jorgensen and her pup, Cisco! Andrea is the Leader of the Feeding Unit at the Emergency Operations Center (EOC), where she coordinates meals for residents who are food insecure. In the first week of the program, 45,000 households received groceries. Cisco keeps everyone at the EOC smiling! Thanks to Andrea and Cisco for their service.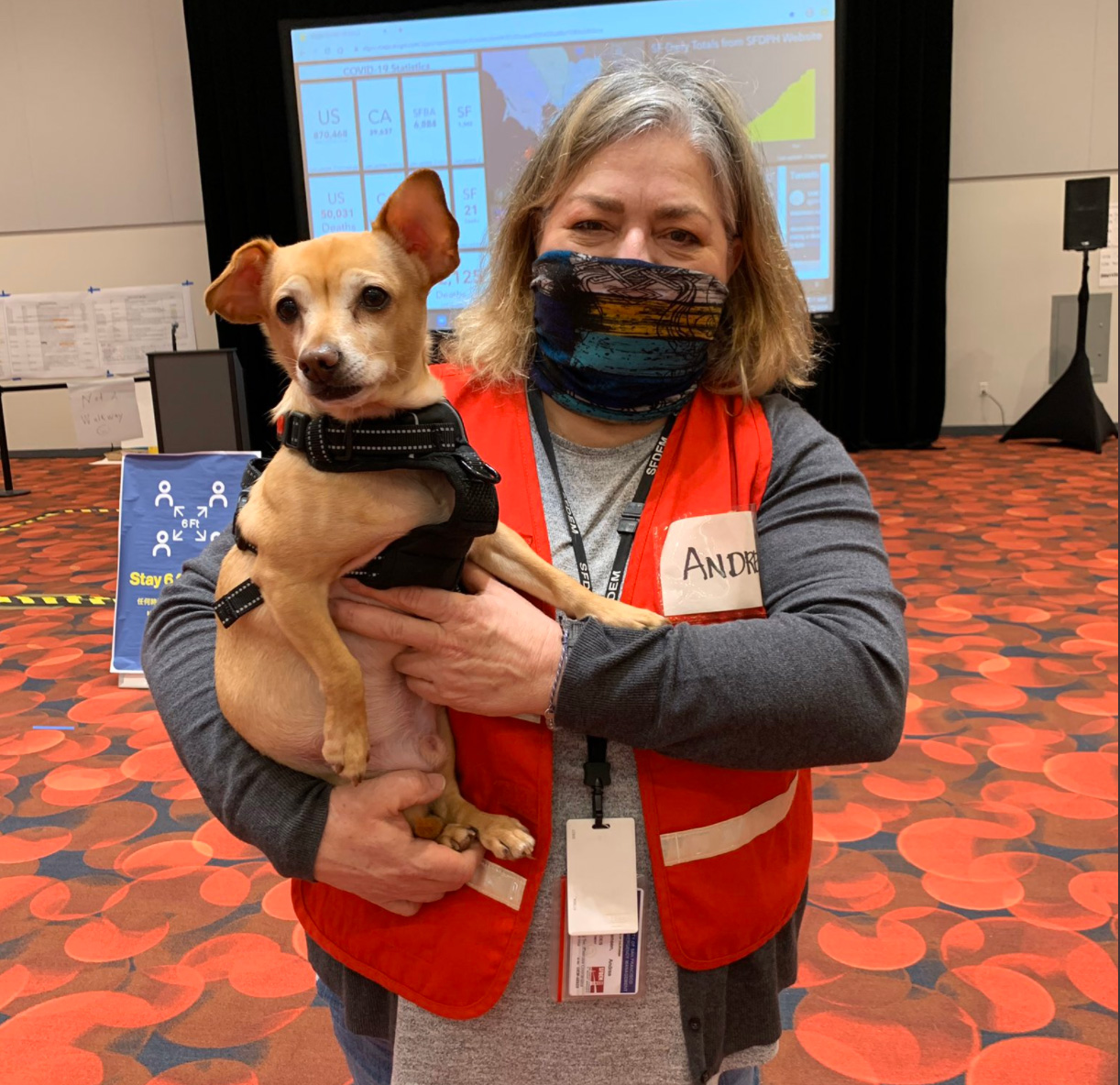 Expanded CityTestSF for Essential City Workers
COVID-19 testing has been greatly expanded in San Francisco. Any essential or frontline worker can now be tested regardless of symptoms or exposure. In addition, testing is available to anyone living or working in San Francisco who either has one COVID-19 symptom or has been exposed to a person testing positive for COVID-19 within the past 14 days. Essential workers include those who leave their home to do their job and cannot maintain social distance or that interact with the public. To get a test, you do not need a doctor's note, but you must schedule an appointment. Test results are typically available within 24-72 hours.
Several locations are available for testing throughout the City. See a map of all the testing locations here . The City's CityTestSF offers prioritized testing for city employees at two locations at Pier 30/32 at Bryant and Embarcadero near Red's Java House, and in the SoMA at 7th and Brannan. Both sites offer drive-thru and walk-up access. (If you plan to arrive without a personal vehicle, please note that when you sign up.) The CityTestSF COVID-19 test is free of charge and you may schedule a test here .
Message from Mayor London Breed - Thank You for Your Service