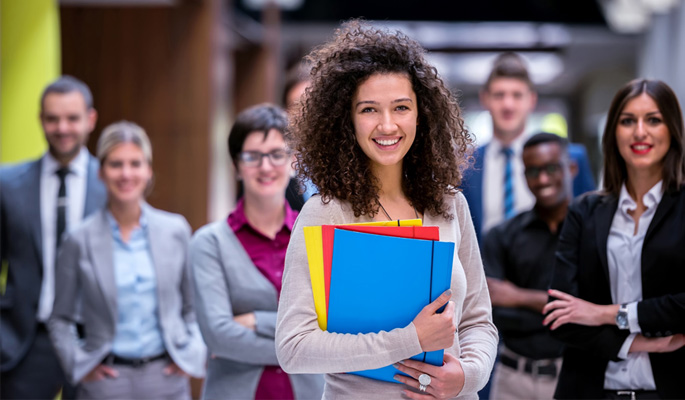 ABOUT THE PROGRAM
The goal of the Human Resources Analyst Development Program (HR Program) is to develop technical competence in all areas of human resources to enable graduates of the program to function as human resources generalists in a City department.
The program offers a comprehensive foundation in human resources and provides training in the City's best practices, policies and procedures, delivered in classroom training and on-the-job application. The curriculum is designed by the Department of Human Resources (DHR) subject matter experts in designated fields of expertise.
THE TRAINING CURRICULUM
Program Components:
The combination of in-classroom workshops and on-the-job training at DHR and sponsoring departments is a key element to the success of the HR Program.
Topic areas of training include— Employee Relations, Equal Employment Opportunity, Classification and Compensation, Examinations and Assessment, Human Resources Operations, Workforce Development and Workers' Compensation.
The cohort of trainees rotates through DHR divisions to learn and apply their knowledge on the job, both in DHR and City departments. In the 12-month program, trainees spend 6 months in DHR and 6 months in various City departments.
In addition to the technical and functional knowledge, DHR provides professional development learning opportunities in performance management, facilitation skills, presentation skills, and Microsoft Excel workshops.
The HR Program has a mentorship component which provides trainees with support and coaching from in-house human resources professionals. In order to monitor progress, regular performance evaluations are conducted throughout the program.
A final assessment will be administered at the conclusion of the training program. Successful completion will enable graduates to compete for the Permanent Civil Service Examination (class 1241).
Program Advantages:
Full-time exempt employee with eligibility for the City's comprehensive benefits.
Member of a cohort that creates a network and develops relationships with subject matter experts.
Exposure to the relationship between governing bodies and strategic partners.
Support and guidance from a human resources professional mentor and HR Program alumni.
A comprehensive understanding of all aspects of human resources and how it affects other human resources areas.
A working knowledge of numerous human resources topics to become fully operational upon program completion.
SELECTION PROCESS
Application for the FY 2018-2019 cohort is closed. Please periodically check here for updates on the next cohort.
CONTACT