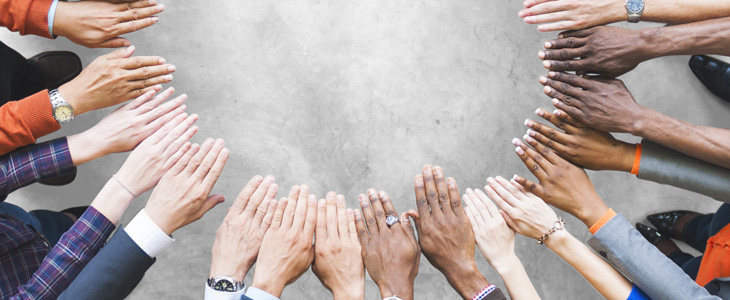 Our Commitment
At the City and County of San Francisco, we share a commitment to a diverse, equitable, and inclusive community. As employees of the City and County of San Francisco, we recognize that our work is integral to creating diverse, inclusive, and vibrant communities. Creating an equitable and inclusive workplace contributes to us reaching our goal of making employment at the City and County of San Francisco a place to "join, stay and grow.""
As part of our ongoing commitment to Diversity, Equity and Inclusion, DHR offers a 1 day "Managing Implicit Bias: Creating Awareness and Building Inclusion" training.
"Managing Implicit Bias: Creating Awareness and Building Inclusion" Training (formerly known as Creating an Inclusive Environment).
In this training, participants will understand the effects of bias on decision-making, as we learn tools to continue creating inclusion in the our daily lives.
Learning Objectives
Define bias, diversity, equity, and inclusion and understand how these may influence your decision-making
Reflect on your own experiences and how bias can impact our daily lives
Learn tools and strategies to address bias and create equity and inclusion
Managing Implicit Bias: Creating Awareness and Building Inclusion
Target Audience: All City Employees
Instructor: Ryan Kimura - (415) 557-4861 | Dan Esparza - (415) 557-4962 | Ishani Baruah - (415) 749-2544 | Maria Mastrokyriakos - (415) 557-4965
Cancellation Policy:
Please review carefully. EDI cancellations must be requested at least 10 days prior to the webinar. Individuals who do not cancel prior to the cancellation date will be charged the full amount of the program. In this case, you will have a one-time only chance to reschedule within the same fiscal year, at no additional cost.
The Impact
Over 2,500 City and County of San Francisco Employees have taken the Creating an Inclusive Environment Training. Participating departments include:
Testimonials
Everyone was raving about the training and many said it was the best training that they had ever taken. Most thought it was going to be a boring class just to tell us not to discriminate but when they saw how different from your typical training this was, everyone loved it.
It was by far one of the most thoughtful, eye-opening and profound trainings I have ever had in my career. It left an impact on me and I can tell it did on others as well.
The session I recently attended was outstanding. It can be a rare thing to be in a training you just don't want to leave. I know I didn't, and I suspect other participants felt the same way. The trainers were fantastic. The session was highly informative, thought-provoking, impactful, and action-inspiring. Oh, and did I mention fun?
These are skills that can prove invaluable in law enforcement.
I thought this workshop was really eye-opening to certain aspects and will help with how we treat/view others.
The Team
Available services will be contingent upon prioritization of projects and the availability of the team.

Daniel Esparza
Instructor
Dan Esparza has worked in Diversity & Inclusion for over 10 years.
bringing the awareness of Implicit Bias to colleges and universities, local non profits, state/federal agencies, and currently the City and County of San Francisco.

Ryan Kimura
Instructor
A native of San Francisco, Ryan's diverse career background includes teaching abroad,
community organizing, business development, and leadership development. Ryan strives to empower individuals and teams to succeed and achieve beyond their limits. He is a graduate of U.C. Berkeley with degree in Asian American Studies.

Maria Mastrokyriakos
Instructor
As a San Francisco native, Maria feels fortunate to have grown up in a diverse community.
Maria is a human resources professional with 15 years of experience in talent acquisition, diversity initiatives, training, and workforce development, including building programs and strategies to develop talent.